Alternate Way to Portfolio Diversification
The September quarter has come to an end. While it had been good for the markets, towards the end of the quarter, the market felt downward pressure on the backdrop of the Evergrande debacle in China, debt ceiling and central bank tightening in the US. However, the September quarter led Indians see the NIFTY50 around 18,000 and SENSEX crossing above 60,000.
Insights from the quarter
We have always been vocal on the specialized diversification, which is totally different from basic novice diversification that people generally do, e.g., splitting funds into large, mid and small caps funds. These kills return that you could actually make in your portfolio, and there is a huge opportunity gap. Post Covid-19, specialization is the key; which could give an alpha to your portfolio. Here, is the case:
In the Jul – Sep quarter, we have seen reality sector being No.1 at 47.62% (last date being 01 Sep'21); beating even the IT which was 19.92% up, led by commodities at 11.89%. Thus, making NIFTY a 4th placeholder at 11.81%. Whereas, Pharma and Auto seem to have fizzled out; but that is not the case.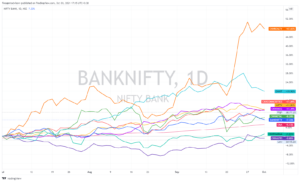 In pharma, capacities have been built and the sector is also under pressure due to expected price regulation coming in in US. Will have to see next 2 months how this pans out. Auto sector had been bogged down due to chip shortage, wherein KIA sales were down 13.7%, Mahindra down by 12%, Honda by 33.66% and Hyundai by over 34.2%. Once the chip shortage due to supply constraints are addressed, we can see the spike in auto stocks.
Now, as an investor, if you don't have positions in auto stocks, this could be the time to take a small bite into this sector. But you need to have patience. As the job sentiments are getting good and companies' performance getting better post each quarter, we can see the jump in sales once chip shortage gets addressed.
For the past 6 months, we had been vocal to diversify portfolios across asset classes and not across market capitalization. An investor has to make money on the theme, story, market cycle, macroeconomic demands rather than on the market capitalization, just because the small and mid-caps recently saw a huge jump than large caps. If an investor needs to take the risk, what is better than a stock market, than Mutual Funds if you go by the latter rationale
When you make your asset allocation across different themes as shown in the graph, s.a., Realty, IT, Commodities, Metal, Banking, etc., you can optimize your portfolio. The thing that you need to take care is of the business and macro-economic cycles; and the allocation should be make accordingly. This means, putting more money is segments that will go up and pruning the non-attractive ones.
Is it as easy as COPY + PASTE
Hell No!
While an investor would feel an urgency to replicate the portfolio by seeing the returns; but, unlike a farmer who bows the seeds without knowing the season is surely to fail. Therefore, having a strategic insight from an advisor, broker, agent, research analyst along with a timely execution is all you need to benefit from this strategy.
We track these asset classes, and are well versed with the cyclical patterns of segments; and enable to take strategic positions not only in mutual funds, but also in stocks. Take due diligence before jumping in.
Key Takeaways
Whereas the OCTOBER EFFECT  might be taking toll on investors; the strategists  have facts that point to the fact that the December Quarter end would be in the green. This makes even the more logical sense for Buy LOW and those who have missed the bus; and those who want to consolidate there holdings, should invest in October.
Real Estate transactions have gathered steam and the sector is again booming with many projects to invest into. Those who have been standing at the fences, it is the time to come in the ring. In case you have any requirements, we would be very happy to assist you.
Crude has come up decently in the month of September and we have seen HPCL, BPCL and IOC stocks hitting high. Keep track of this segment.
Do follow our broadcast messages on the markets; and our insights are shared on digital platforms for our investors and followers on regular basis.